L'Osier Original Tea
"Travel" is the concept of L'Osier Original Tea, created by Executive Chef Olivier Chaignon. The highest quality, organic, pesticide-free, carefully hand-picked tea leaves, grown on a secret tea farm in Dimbula in central Sri Lanka, have been crafted into four forms: Oak Tea, ripened in oak barrels made by French barrel makers in Champagne; and three Flavored Teas, blended with precious exotic spices and natural fruit essences. They come in four cans to enjoy L'Osier Original Tea in the comfort of your own home.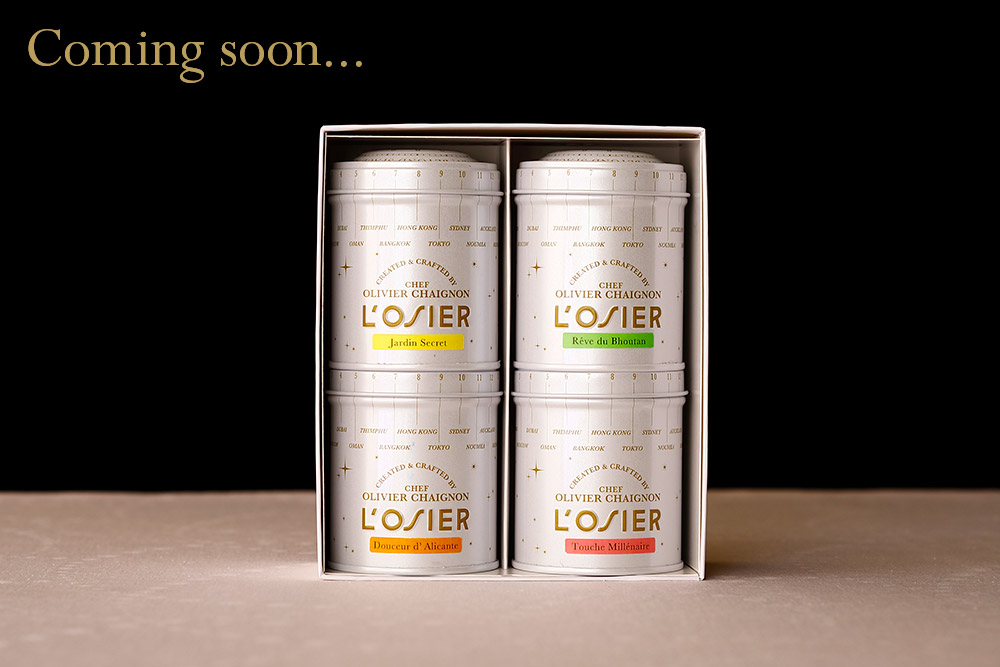 Price: 11,880 yen (tax inclusive)
Content

: 4 cans (50g each)

[Secret Garden(Jardin Secret)

Sweet Alicante (Douceur d'Alicante)

Dreams of Bhutan (Rêve du Bhoutan)

Millennium Touch (Touche Millénaire) 1 can each]

*For details on each of the flavors, visit our "

PASSION

" page

Storage instructions

:
Store at room temperature away
from direct sunlight and high humidity.
*Available for purchase at L'Osier by dining patrons only.
*Please reserve at least one day in advance.
*Not available for delivery.
The release date will be noticed on our NEWS...